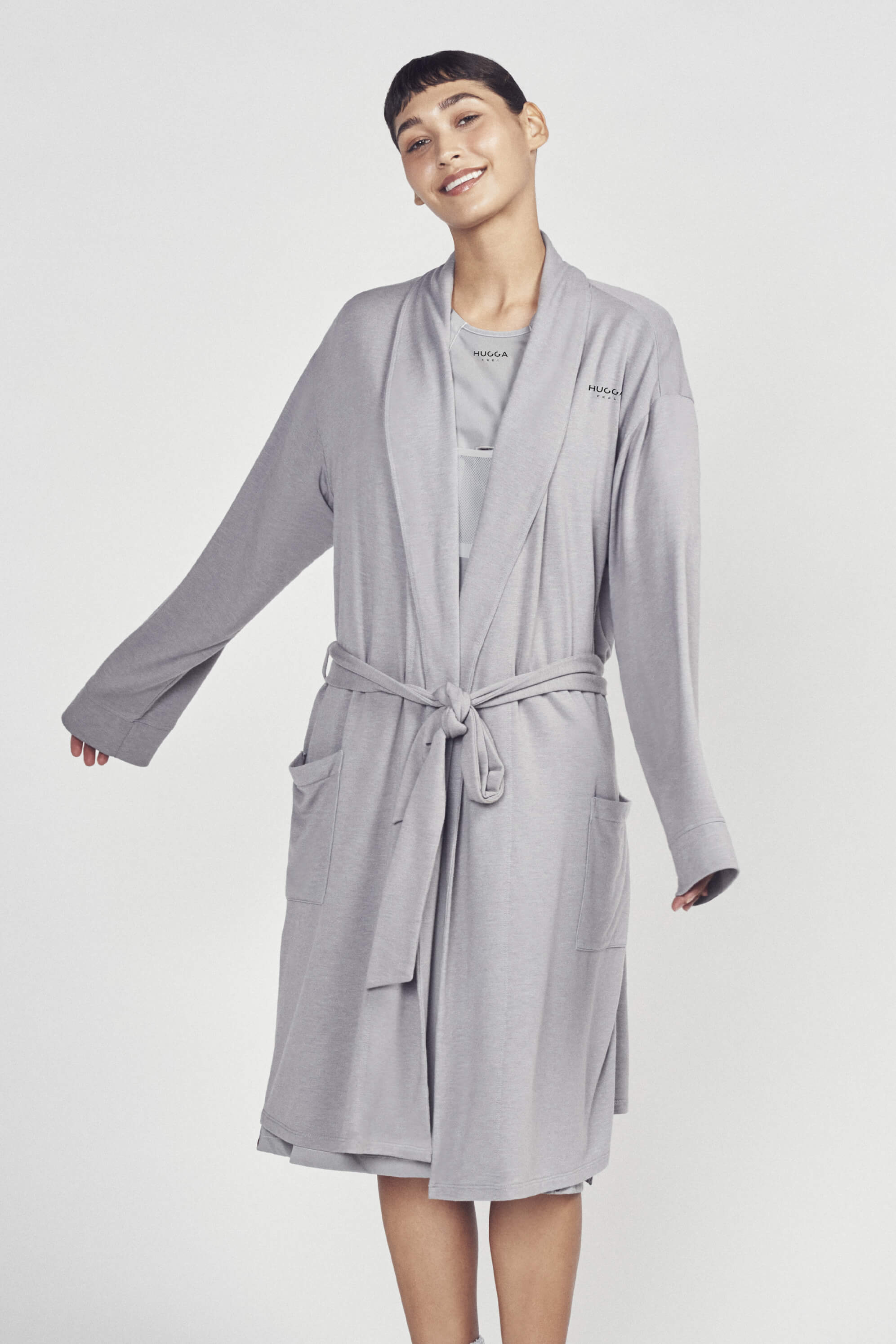 Description
Our front tie unisex robe is made of soft touch french terry and provides patients with an added layer of warmth as they leave the bed. The robe is mid-length, providing enough coverage to keep cozy, but not so long that it will drag.
Features and Material
•47% Cotton
•47% Modal
•6% Spandex

Our Robes are unisex
Shipping
2 Day (2 business days)
Cost: Free for US orders $50 or more
or $5 for US orders below $50

Domestic Overnight 
(1 business day)
Cost: US $20
THE HUGGA DIFFERENCE
At HUGGA, our mission is simple: bring the feeling of home to patients during their hospital stay with pieces designed to encourage recovery. From our feel-good Hospital Gowns and plush Hospital Grip Socks to the warm embrace of the Hotelish Robe, HUGGA hospital robes and apparel make it possible to give your loved one the comfort they crave when they need it most.
The HUGGA hotel robe is a soft, french terry front tie cotton robe designed to give patients the added layer of warmth they need in the cold hospital environment. This mid-length cotton robe won't drag on the floor and makes an excellent layer post-surgery. It's also available as part of the At Home Recovery Care Package designed to encourage your loved one to keep on fighting towards recovery.
Are you looking for useful maternity gifts for a mom-to-be? This is a perfect labor and delivery robe for hospital stays! She will love having an extra layer to cover up with during early morning feedings or when guests visit, and that she can take it home and wear it around the house long after she leaves the hospital.
NURTURING RECOVERY AND CONNECTION
Through years of experience as a patient, HUGGA founder Yonathan knew the disconnect, isolation, and loneliness he felt were holding him back from recovery. He would soon come to learn many other patients felt the same way.
HUGGA hospital robes and apparel were created to bridge the critical gap in-hospital care separating patients in recovery from the rest of the world. With our hospital robes and apparel, we hope to create a nurturing environment for your loved one to keep fighting towards a healthier future.
HUGGA GIVES BACK
As part of our mission to support patients in recovery, HUGGA will donate a portion of hospital robe and apparel sales to organizations helping patients pay for their medical bills.
Do you have a loved one that would benefit from HUGGA products? With our Nominate a Patient program, they will have the chance to win a special HUGGA gift on your behalf that's sure to make them smile.
No matter what battles your loved one is fighting and what obstacles may lie ahead, HUGGA wants to be there for every step of the journey. Shop our hospital robes and Care Packagestoday and be part of the positive change in your loved one's recovery.