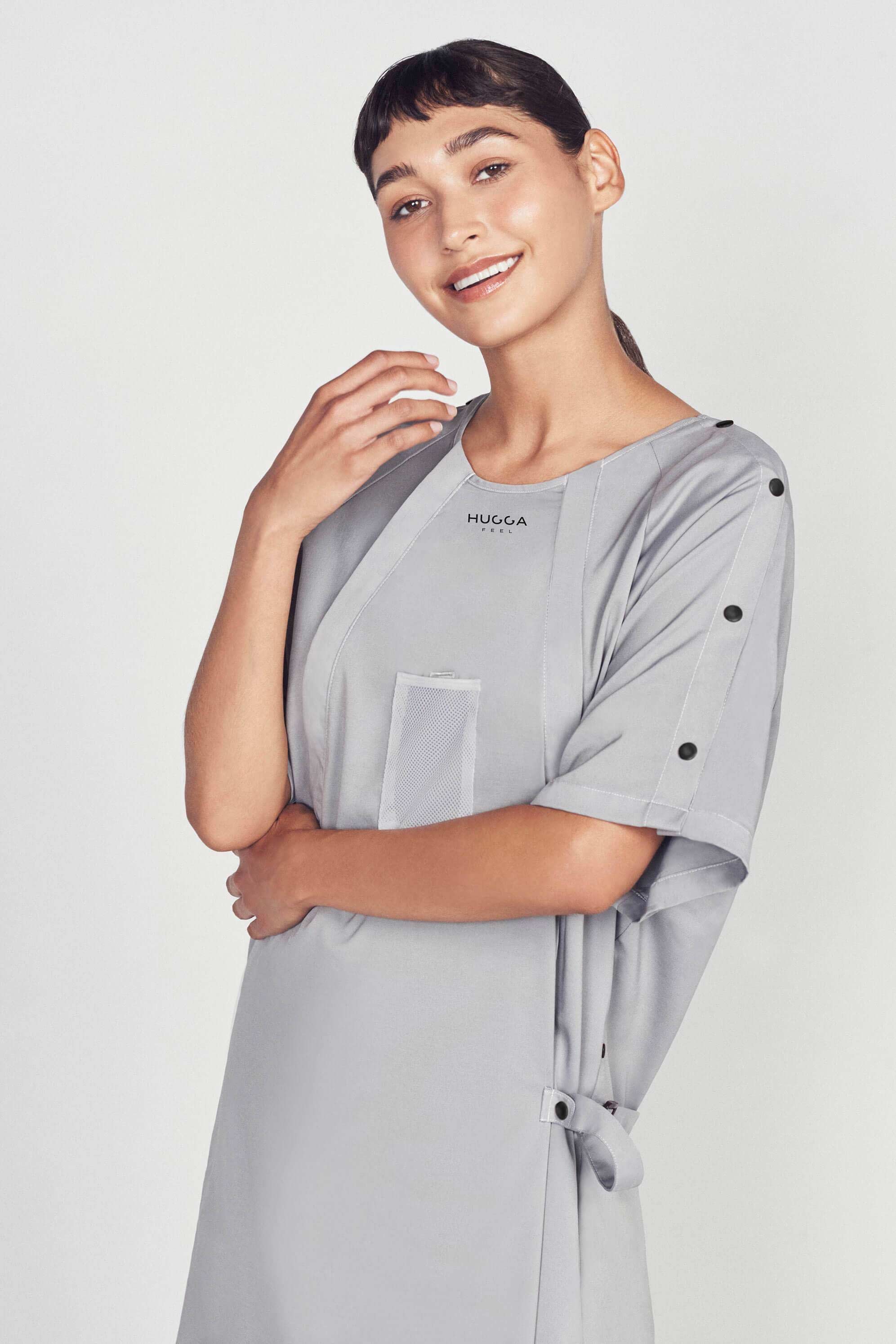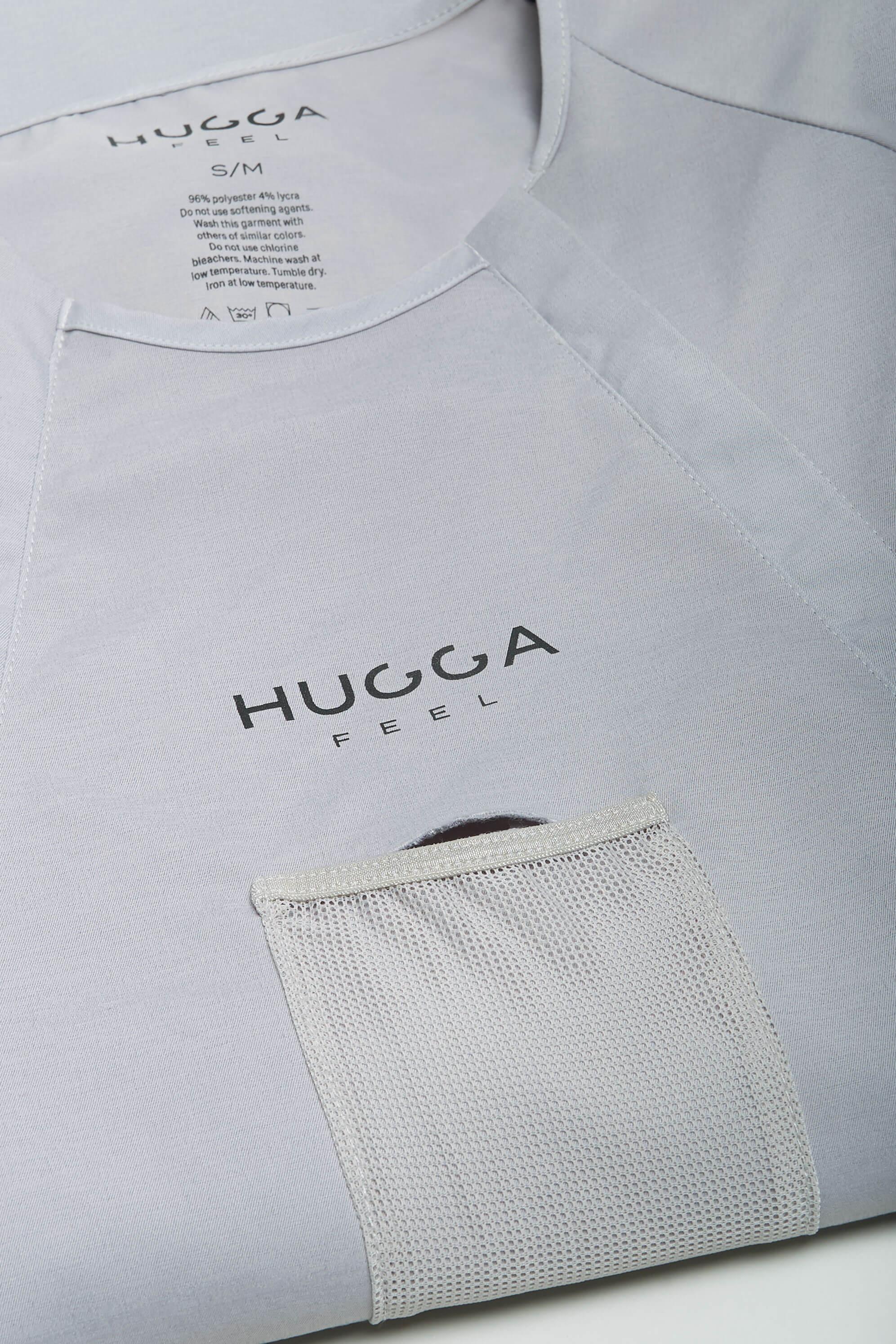 Description
Our Never Give Up gown is made with love and designed with patients' needs in mind. In addition to being hospital grade and antimicrobial, the gown's lycra composition delivers comfort and easy mobility. Because privacy matters as much as comfort, our gown features a double sided zipper front which allows for easy opening only where necessary. In the back, you'll find a snap enclosure and waist tie for total backside coverage. And on the back, you'll also find our words of encouragement to you and yours: Never Give Up.
Our gowns are unisex
Features and Material
• Hospital Grade
• Antimicrobial
• Adjustable length and waist
96% Polyester
4% Lycra
Shipping
2 Day (2 business days)
Cost: Free for US orders $50 or more
or $5 for US orders below $50

Domestic Overnight 
(1 business day)
Cost: US $20
THE HUGGA DIFFERENCE
With a HUGGA hospital gown, your loved one isn't just getting a new patient gown, but a hospital-grade, antimicrobial, adjustable, and washable gown designed to deliver the utmost privacy and comfort no matter what they are recovering from.

Made from LYCRA® stretch fabric, our hypoallergenic hospital gown is the only patient gown to feature a double-sided zipper front that allows for easy opening when needed, and privacy when it's not. The back snap enclosures and adjustable waist tie ensures total backside coverage, while the printed motto "Never Give Up" delivers a triumphant message of hope.Not only do HUGGA hospital gowns make excellent gifts for cancer patients, chemo warriors, and patients battling a variety of illnesses, but are also the perfect birthing gowns and maternity hospital gowns for new moms who deserve the utmost comfort and coverage during labor.
THE HUGGA
HOSPITAL GOWN
At HUGGA, we're on a mission to create soft and cozy hospital gowns and apparel so your loved one can feel at-home in during their hospital stay.
Now, your loved one can say goodbye to uncomfortable, dehumanizing labor and delivery gowns, and hello to an only non-hospital issued gown designed by patients, for patients.
After I was admitted to the hospital because of a MS flare up, it was really nice to put on my own Hugga gown and not have to wear the gown that is spread out on your hospital bed.
THOUGHTFUL GIFTS FOR THE WARRIOR IN YOUR LIFE
If you're looking for more meaningful gifts your loved one can benefit from during their time in the hospital, our Hospital Care Packages are filled with ultra-cozy clothing options sure to put a smile on their face. They will light up when they slip on the ultra-plush hospital grip socks, and feel right at home in their new hospital robe perfect for chilly mornings and those trips down the hall.
No matter what your loved one is going through, HUGGA hospital gowns and apparel are the easy way to support them in their recovery. Shop today, and be part of the positive difference in your loved one's journey back to health!